Flammability behaviour of wood and a review of the methods for its reduction
Fire Science Reviews
2013
2:4
Received: 26 April 2013
Accepted: 5 August 2013
Published: 3 September 2013
Abstract
Wood is one of the most sustainable, aesthetically pleasing and environmentally benign materials. Not only is wood often an integral part of structures, it is also the main source of furnishings found in homes, schools, and offices around the world. The often inevitable hazards of fire make wood a very desirable material for further investigation. As well as ignition resistance and a low heat release rate, timber products have long been required to resist burn-through and maintain structural integrity whilst continuing to provide protection when exposed to fire or heat. Various industry standard tests are thus required to ensure adequate protection from fire is provided.
When heated, wood undergoes thermal degradation and combustion to produce gases, vapours, tars and char. In order to understand and alter the fire behaviour of wood, it is necessary to know in as much detail as possible about its processes of decomposition. Various thermal analysis and flammability assessment techniques are utilised for this purpose, including thermogravimetric analysis, cone calorimetry and the single burning item test. The results of such tests are often highly dependent on various parameters including changes to the gas composition, temperature, heating rate, and sample shape size.
Potential approaches for fire retarding timber are reviewed, identifying two main approaches: char formation and isolating layers. Other potential approaches are recognised, including the use of inorganic minerals, such as sericrite, and metal foils in combination with intumescent products. Formulations containing silicon, nitrogen and phosphorus have been reported, and efforts to retain silicon in the wood have been successful using micro-layers of silicon dioxide. Nano-scale fire retardants, such as nanocomposite coatings, are considered to provide a new generation of fire retardants, and may have potential for wood. Expandable graphite is identified for use in polymers and has potential for wood provided coating applications are preferred.
Keywords
Wood
Timber
Fire
Fire retardant
Pyrolysis
Combustion
Introduction
Wood is one of the most sustainable, aesthetically pleasing and environmentally benign materials. The demand to use wood and wood-based products for applications in both residential and non-residential building construction has been increasing over recent years. However, due to the inherent flammability of such products, they often contribute to unwanted fires, resulting in numerous injuries and fatalities. The use of wood is, therefore, limited by various safety requirements and regulations pertaining to its flammability and spread of fire characteristics.
In order to improve the reaction to fire performance, timber products are commonly treated with fire retardants. At present, the level of development of such products with improved fire performance does not match the increasing use. Some of the fire retardant timber treatments are almost two millennia old, where alum and vinegar were first used. Little improvement has been observed since, with treatments exploiting the synergism between boron, phosphorus and nitrogen to promote char formation still prominent. The growing awareness of environmental issues and consumer safety of fire retardant products, however, means that the traditional use of boron and formaldehyde is likely to decline.
In addition to the environmental credentials of a timber treatment, its ancillary properties, and the effect it has on that of timber, must be assessed. The hydrophilic character of wood is one of which. It gives rise to a variable equilibrium moisture content, which can result in poor dimensional stability and low resistance to microbiological decay. Fire retardants can be hygroscopic and thus attract water into the wood structure. Other properties include the corrosion, glueability and paintability of the fire retardant treated timber, all of which should be considered carefully depending on the end use of the product.
Strong development in new technologies and products in the last decades has been observed for the fire retardant treatment of plastics and fabrics, including nanocomposites (Laoutid et al. 2009) and layer by layer applications (Alongi et al. 2013a). The transference of these technologies to the commercial world is unknown. Nevertheless, close collaboration between the scientific disciplines is required in order to ensure the continued growth of such developments, and to ensure the development of fire retardant timber treatments.
Wood structure and properties
Wood is a renewable, sustainable and easily workable material that has been used in the building industry for thousands of years. Its use remains widespread, ranging from structural frames to floors, paneling, doors, interior and exterior woodwork, and furniture. (Rowell 1984) has provided an in-depth description of the chemistry and structure of wood. Its three main components (cellulose, hemicellulose and lignin) are discussed thoroughly and an understanding of wood as a composite is provided. A wider overview of wood structure from an engineering and architectural perspective is provided by (Bergman et al. 2010).
Wood is composed of elongated cells, most of which are orientated in the longitudinal direction of the stem. These cells are connected to one another through openings, known as pits, and vary in their shape according to their function. Functions exhibited by the cells are to provide mechanical strength to the tree, perform the function of liquid transport and storage of reserve food supplies.
Cellulose, hemicellulose and lignin are the three polymeric materials that constitute the wood cells. Cellulose is a polymer with alternating repeat units of glucose (Figure
1
). Cellulose derived from wood pulp has an average of 3000 repeat units (Bergman et al
.
2010
). The large number of hydroxyl groups on the sugar molecule, which leaves the polymer as water molecules during decomposition, result in char formation. In the wood structure, cellulose forms the cell walls, and provides the tensile strength of the wood matrix. Hemicelluloses grow around the cellulose fibres and are a group of non-structural, low molecular weight, mostly heterogeneous polysaccharides. Lignin is an aromatic polymer, which allows trees to grow upright by imparting rigidity to the wood: it cements the cells together, thus accounting for the compressive and shear strengths of wood.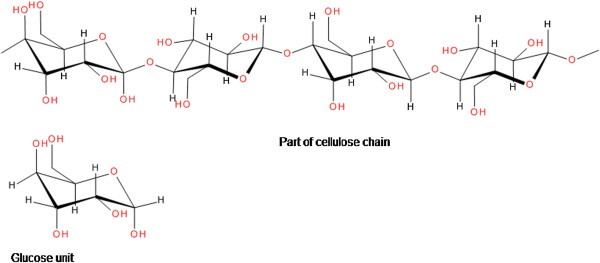 Although wood is essentially polymeric, its structure varies greatly between, and within, species. At the simplest level, wood used by the construction industry is typically separated into two categories: hardwoods and softwoods. The terms hardwood and softwood do not reflect the physical properties, as might be imagined. Some hardwoods are relatively soft, and some softwoods are relatively hard. Hardwoods are broad-leaved species and softwoods are coniferous species. In softwoods, the main cell type is the tracheid, which constitutes over 90% of the volume of softwoods. In hardwoods, 50% of the volume is made up of fibres and fibre tracheids, which are considerably shorter and thicker-walled than softwood tracheids (Rowell 1984). Hardwood fibres typically also have higher hemicellulose content than softwood tracheids. High hemicellulose contents give rise to weak fibres.
In both hardwoods and softwoods, the wood in the trunk of the tree is divided into two zones, heartwood and sapwood. Both of these groups serve an important function, distinct from the other. Sapwood is the band of lighter coloured wood located within the outer portion of the tree. It carries water, minerals and plant sugars between the roots and leaves. Heartwood is the darker coloured wood, surrounded by sapwood, which is made up of dead cells that no longer serve any purpose except to support the tree. Many hardwoods typically have larger heartwood zones, which has a positive impact on the durability properties of the wood (Wiedenhoeft and Miller 2005). Most softwood is available far cheaper than any hardwood due to its increased growth and obtainability. As such, softwood is most commonly used by the construction industry (McDonald and Kretschmann 1999).
Wood combustion and fire retardancy
Pyrolysis and combustion
When wood is progressively heated at raised temperatures, changes begin to occur in its structure, accelerated by further increase in temperature. The three polymeric components in the wood begin to thermally decompose to a mixture of volatile gases, tar (levoglucosan) and carbonaceous char. The decomposition is often regarded as the superposition of the individual constituent's decomposition mechanisms: hemicellulose decomposes first [180 – 350°C] followed by cellulose [275 – 350°C], and lignin [250 – 500°C] (Kim et al. s2006). The thermal stability of lignin is considered to be due to its heavily cross-linked structure and high molecular weight (Yang et al. 2006).
Cross-linking reactions dehydrate cellulose and the re-polymerized levoglucosan begin to yield aromatic structures, becoming graphitic carbon structures at around 500°C. This decomposition process is termed pyrolysis. Wood pyrolysis has been the subject of extensive research over the last years (Bland 1991; Reszka 2008; Yang et al. 2003). Such studies have shown that whilst the charred surface of wood can have temperatures of 800°C, the main pyrolysis of wood begins at temperatures above 225°C and ends below 500°C.
When an appropriate volatile fuel-air concentration has been reached, oxidation of the pyrolysis gases leads to flaming combustion (Babrauskas
2002
; Hirata et al.
1991
; McNaughton
1945
). In contrast, oxidation of the remaining char produces glowing or smouldering combustion. The pyrolysis and combustion of wood has been reviewed (Browne
1958
; Friquin
2010
; Jonsson and Pettersson
1958
) and studied extensively (Carling
1990
; Dietenberger
2002
; Mikkola
1990
; Parker
1992
; White and Dietenberger
2001
); the key discoveries are summarised in Table
1
.
Table 1
Temperature ranges of wood pyrolysis and combustion
| Temperature range | Decomposition processes |
| --- | --- |
| >100°C | The evaporation of chemically unbound water. |
| 160-200°C | The three polymeric components of wood begin to decompose slowly. Gases formed at this stage are non-combustible (mainly H2O). |
| 200-225°C | Wood pyrolysis is still very slow, and most of the gases produced are non-combustible. |
| 225-275°C | The main pyrolysis begins and flaming combustion will occur with the aid of a pilot flame. |
| 280-500°C | Gases produced are now volatile (CO, methane etc.) and smoke particles are visible. Char forms rapidly as the physical structure of wood breaks down. |
| >500°C | Volatile production is complete. Char continues to smoulder and oxidise to form CO, CO2 and H2O. |
Formation of char
Two forms of gaseous products are produced by wood pyrolysis: those that escape readily from the solid residue and those that don't. For those that do, nearly all of the compounds that split off from cellulose and lignin in the earlier stages of pyrolysis are richer in hydrogen, in oxygen, or in both, than the original polymeric chains. The non-volatile residue, therefore, becomes enriched in carbon. The carbon-to-carbon bonds in the graphitic carbon structures formed are unbreakable by pyrolysis alone to temperatures beyond 3000°C (Browne 1958). For those complex gaseous products that do not readily escape from the solid residue, exothermic pyrolysis continues to leave a more highly carbonaceous residue, and form a secondary char.
Char formation has a significant effect on decomposition. Clearly, if material is left in the solid phase as char, the decomposition of the underlying wood is slowed. Although the char does not impart strength to the remaining material, it acts as an increasing thermal resistance between the underlying wood and the pyrolysis front. This results in a decrease in heat release rate and acts as a mass transport barrier for volatiles released from the fuel and oxygen from the air.
The structure of the char varies widely depending on wood species, fire retardant treatment and heating rate, and its stability and integrity is influenced by many characteristics, including density, continuity, oxidation-resistance, thermal insulation properties and permeability. Its production highly depends on the rate and length of heating: sharp increases in temperature yield less char than gradual increases, since char production is dependent on low-temperature dehydration reactions. The decomposition of lignin is known to make a significant contribution to the overall char yield (Browne 1958).
Whilst the addition of fire retardants often increases the char yield of wood, the charring rate typically remains unchanged. Typical charring rates of softwoods are of the order of 0.6 mm min-1 using the standard test methods for determining fire resistance ratings for structural members and assemblies [ASTM E119 (2012) or ISO 834 (2012)]; however, they depend on important factors including density, thickness of the char layer, moisture content, oxygen concentration and external heat flux (Friquin 2010; Mikkola 1990).
Smoke production and toxicity
Less smoke is produced by wood than from many plastics. In well-ventilated conditions, wood can produce 25–100 m2 kg-1 of smoke, whereas plastic materials can release hundreds or thousands m2 kg-1 (Hakkarainen et al. 2005). Smoke production depends on the burning material and on factors including oxygen supply and type of combustion (e.g. flaming or glowing).
Smoke released during a fire poses severe risks to the fire safety of occupants in buildings: not only does it reduce visibility thus reducing the likelihood of escape from a burning building, its gases have irritating, and lethal, effects. Primary products of wood combustion are carbon monoxide, carbon dioxide and water (Karpovic et al. 2012; Wilkins and Murray 1980). However, hydrogen cyanide and hydrogen halides can be released if heteroelements such as nitrogen or halogens are present. Fire retardants containing such heteroelements or other inhibitors can increase the yield of smoke and its toxic components, but by slowing the rate of burning can also cause a reduction in smoke and toxic gas production rates. Commercial smoke suppressants can be added to fire retardants to reduce the quantity of smoke produced, examples include zinc borate, and molybdenum and tin compounds (Green 1996).
The toxicity of fire retardants plays an important role in health and safety legislation and any candidate fire retardant should be considered as a result of this. Halogenated, particularly bromine-containing, flame retardants are now widely recognised as being environmentally unfriendly due to their bioaccumulation in people and adverse health effects in children (Janssen 2005). In addition, boric acid has recently been under scrutiny, following its reclassification as toxic for reproduction category 1B according to CLP Regulation (EC) No 1272/2008 (European Chemicals Agency 2008), and its inclusion as a candidate for authorisation as a Substance of Very High Concern (SVHC) under REACH (Registration, Evaluation, Authorisation and restriction of Chemicals) regulations (European Chemicals Agency, European Chemicals Agency 2010aEuropean Chemicals Agency 2010b).
The SVHC list includes materials defined as carcinogenic, mutagenic or toxic to reproduction, persistent, bioaccumulative and toxic, and/or identified from scientific evidence as causing probable serious effects to human health or the environment. Any user of materials on the SVHC list is obliged by law to inform their customers of the presence of these chemicals in products. This is likely to reduce the use of boric acid. The borate industry refute the inclusion European Borates Association (2010), and a proposal has been submitted by Poland to the European Chemicals Agency for a reduction in reproduction toxicity classification to category 2 according to CLP Regulation (EC) No 1272/2008 (European Chemicals Agency 2013). Given the contentiousness of its use, and the numerous studies available reporting its harmfulness (Agency for Toxic Substances and Disease Registry 2010), boron as a fire retardant for timber treatment has been excluded from this review.
Techniques for studying fire retardant treated timber
There are various fire test methods used not only to evaluate the fire retardant performance of wood materials, but for research and development purposes. Micro- and bench-scale test methods are frequently used to investigate the fire behaviour of formulations of small sample sizes of timber treated with fire retardants, whilst large-scale test methods are used to test building materials and provide fire safety classifications for end-use. Irrespective of the angle of interest, there are several aspects of evaluation of reaction to fire performance: ignitability, flame spread, heat release, smoke generation, and fire effluent toxicity.
There are two common approaches for investigating the suitability of a given fire retardant on a small scale: thermal analysis and flammability assessment. The most commonly used methods for each are briefly described in the following sections and include thermogravimetric analysis, differential thermal analysis, cone calorimetry, lateral ignition and flame spread test (LIFT) and large scale calorimetry, such as the single burning item (SBI) test, used for regulatory classification. Other test methods are used to quantify smoke development and toxicity, e.g. Steady-state tube furnace (BS 7990 2003/ISO TS 19,700) and NBS smoke density chamber (ISO 5659–2 2012).
Thermal analysis
In order to understand, and alter, the behaviour of wood in a fire, it is necessary to know in as much detail as possible about its process of decomposition. Such processes are often highly dependent on various parameters including changes to the gas composition (air, nitrogen, air/nitrogen, oxygen), temperature, heating rate, sample shape and sample size. The sensitivity to these parameters can help the analyst identify the decomposition processes occurring, and provide them with significant clues to interpret the fire behaviour.
Thermogravimetric analysis
The most common method used to investigate thermal decomposition is thermogravimetric analysis (TGA). TGA is a technique that provides quantitative decomposition information on a polymeric material and can be used to study degradation kinetics and char formation (Crompton 1989).
The sample (in milligram quantities) is subjected to a controlled temperature regime (typically consisting of a constant heating rate) whilst the weight of the sample is monitored throughout the decomposition. This provides a measurement of weight loss as a function of temperature. As the material is heated, it can either lose weight through drying or liberation of gases or volatiles, or it can gain weight through reaction with the test atmosphere. Since the concentration of oxygen under a flame is close to 0% (Schartel and Hull 2007), the mass loss in an inert atmosphere, such as nitrogen, is more representative of the production of fuel after ignition has occurred. The thermal stability of the wood can be evaluated from the data produced.
Differential thermal analysis
In differential thermal analysis (DTA), a sample and an inert reference sample with approximately the same heat capacity are subjected to the same temperature programme. If the decomposition process of the sample is endothermic, such as anaerobic pyrolysis or gasification, the temperature of the sample will trail behind the reference material. If the process is exothermic, such as char oxidation, then the temperature of the sample will exceed that of the reference. The differential temperature is then plotted either against time or temperature. Differential temperatures can also be seen in two inert samples that respond differently when heated.
Differential thermogravimetry (DTG) uses the same measurement as TGA, the output results are presented as the differential of mass loss over time to give the mass loss rate versus temperature. DTG curves are useful for mechanistic studies, where a good indication as to when the various stages of decomposition occur and the associated order are provided. This is useful for the determination of the effectiveness of mixtures, e.g. fire retardant additives in a wood/plastic composite, and particularly useful to highlight the number of decomposition reactions occurring and the temperatures at which the peak rates of pyrolysis occur.
Flammability assessment
Flammability is a catch-all term to describe the reaction to fire characteristics of a material. It cannot be represented by a single value, as several parameters are involved (Quintiere 1997). Flammability assessment methods are fundamental in the screening and evaluation of fire retardant materials. The majority of fire tests in common use aim to determine some of the following fire properties of materials:
Ease of ignition – how readily the material ignites;

Rate of flame spread – how rapidly fire spreads across a surface;

Rate of heat release – how much heat is released and how quickly;

Ease of extinction – how easily the flame chemistry leads to extinction;

Smoke/toxic gas evolution – evolution rate, amount, and the composition of smoke released during the various stages of a fire (Friedman et al. 2003).
Many authors ascertain that the single most important parameter for determining a material's fire hazard is its heat release rate (HRR) [Babrauskas and Peacock 1992; Lyon and Walters 2002. There are many experimental studies and reviews available in the literature on the heat release and reaction to fire performance of wood (Tran 1992; White 2000).
Cone calorimetry
The cone calorimeter (ISO 5660–1 2002) is the most widely used bench-scale fire test method in use, providing a variety of quantifiable flammability parameters. It is employed as a means of predicting how a material will behave in a real fire scenario by providing the user with the HRR, mass loss rate (MLR), smoke production, fire spread and ignition properties. The method does have its limitations, however, in that the test conditions are only specific to a well-ventilated fire scenario, and it only assesses one-dimensional fire propagation into the substrate, taking no account of surface flame spread. This prevents the attribution of results to under-ventilated fires or post flashover fires (Carpenter and Janssens 2005).
Cone calorimetry assesses the heat contribution to the fire by the product. It measures the heat release based on the principle that the net heat of combustion is proportional to the mass of oxygen required for combustion and it has been established that approximately 13.1 kJ of heat are released per g of oxygen consumed. Test specimens have an area of 100 × 100 mm and a maximum thickness of 50 mm. Test specimens are uniformly heated by a radiant heating source and ignited through the use of a spark igniter. The material is continuously weighed in order to determine mass loss as a parameter in its own right, and as a function of time and heat release. Measurements are deduced from the effluent oxygen concentration and exhaust gas flow rates. The thermal radiation can be set for any heat flux between 0 and 100 kW m-2.
A typical cone calorimeter output obtained at a heat flux of 50 kW m
-2
from a sample of untreated Scots pine sapwood (density = 504 kg m
-3
) is provided in Figure
2
. The first peak in the curve occurs after an initial heating period, when the volatile pyrolysis gases are in sufficient supply to allow ignition by an external spark igniter to support ignition. The heat generated by combustion sustains the pyrolysis of wood, thus releasing more volatiles. The dip in the curve corresponds to the formation of the insulating char layer, where heat transfer is more difficult and the pyrolysis process is slowed (Marney et al.
2008
). The second peak in the curve is believed to be caused by sample burn-through and char cracking, facilitating the escape of more volatiles (Spearpoint and Quintiere
2000
). Following the exhaustion of volatiles, flaming combustion ends and the HRR returns to a steady baseline. In the absence of a protective char, the final peak in HRR in cone calorimetry is generally attributed to the lack of material below the pyrolysing fuel, which acts as a heat sink during steady burning. At the end of the test little heat transfer occurs to the glass wool supporting the sample.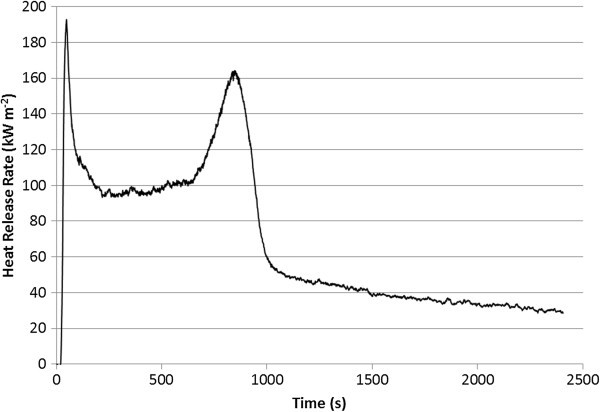 Microscale combustion calorimetry (pyrolysis combustion flow calorimetry)
A relatively recent innovation in fire calorimetry has been the development of the microscale combustion calorimeter (MCC) [Figure
3
]. This apparatus is utilised to determine the flammability characteristics of polymeric materials by use of combustion calorimetry on a microscale. The apparatus is used according to ASTM D 7309 (
2011
) and has been shown to give good repeatability (Yang and He
2012
). The method was developed by the US Federal Aviation Administration (Lyon and Walters
2002
;
2004
).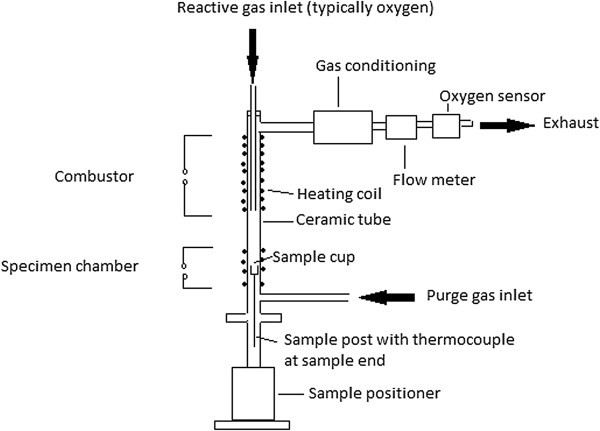 MCC reproduces the solid-state and gas-phase processes of flaming combustion in a non-flaming test. Similar to the cone calorimeter, it can determine several of the parameters related to flammability including the peak heat release rate, heat of combustion, char yield and pyrolysis temperature, however unlike the cone calorimeter, the apparatus requires only milligram quantities (~5 mg) of sample. As the technique also utilises oxygen consumption calorimetry for determining HRR, combining the results of this method with those of the cone calorimeter can provide valuable heat release data at both the micro- and bench-scale. MCC is concerned with bulk burning, however, which means that it is of little sense to attempt the examination of fire retardants applied to the surface of the wood. In such cases, bench-scale methods, such as cone calorimetry, should be utilised.
No literature is found on the utilisation of MCC to study fire retardant treated timber. An unpublished typical MCC output of wood is shown in Figure
4
. The onset of decomposition is indicated by a rise in HRR, which continues until the peak heat release rate is achieved. At this point, the pyrolysis temperature is also reached. Similar to the cone calorimeter, the area under the curve equates to the total heat release (THR) of the sample. Char yields are calculated by weighing the test specimen before and after the test run.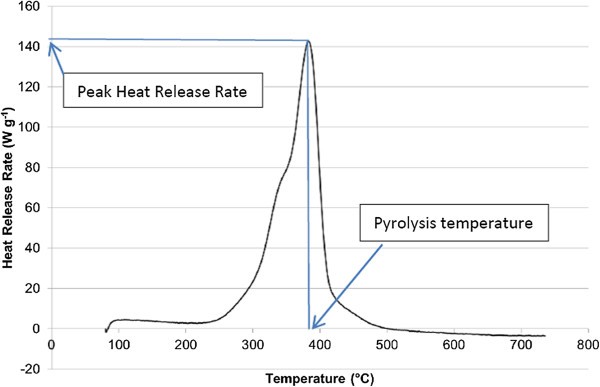 Lateral ignition and spread of flame test (LIFT) apparatus (ISO 5658)
The LIFT apparatus (ISO 5658–22006) uses a radiative heat source, in the presence of a pilot flame, to measure the time to ignition and lateral spread of fire along the surface of a vertically orientated material of length 50 cm and width 15 cm. The test is utilised for flat samples (that are positioned at an angle of 30° in respect of the radiative heat source), which are primarily used as the exposed surfaces of walls. Subsequent to ignition, the horizontal progression of any fire along the sample is noted. The results are expressed in terms of fire spread distance/time, the fire front velocity versus heat flux, the critical heat flux at extinguishment and the average heat for sustained burning (Merryweather and Spearpoint 2008).
Regulatory classification
Single burning item
The single burning item (SBI) test is an intermediate-scale test method (EN 13823) that is used to regulate construction products, excluding floorings. It is based on the fire threat from the burning of a single item, e.g. a wastebasket, located in the corner of two right-angled walls of the material to be tested. The test specimen walls are of sizes 1.0 × 1.5 m and 0.5 × 1.5 m and the single burning item ignition source is a triangle-shaped propane burner providing a maximum heat exposure of approximately 40 kW m-2 on an area of 300 cm2 (Hakkarainen et al. 2005). The end use application of a product should be as closely represented in the test as possible, e.g. mounting and fixing, substrate, presence of an air gap, exposed edges and joints.
Classification parameters contained within the SBI output are fire growth rate index (FIGRA), lateral flame spread (LFS), and THR. Additional classification is defined for smoke production in terms of smoke growth rate index (SMOGRA) and total smoke production (TSP). Each parameter is measured by means of sensors in the exhaust duct, recording temperature, light attenuation, O2 and CO2 mole fractions, and flow-induced pressure differences. These are used to allocate sheet materials into flammability Euroclass as part of the EU Construction Products Regulation 305/2011.
There are six Euroclasses ranging from Euroclass A (no contribution to fire) to Euroclass F (no performance determined). Only materials within classes B, C and D are subjected to the SBI test. Untreated timber products normally show a decrease in FIGRA values with increasing density. They normally meet the requirements of Euroclass D (acceptable contribution to fire: FIGRA < 750 W s-1) provided that the test specimen is thick and dense enough (see Classification Without Further Testing (CWFT) definitions for wood products). With fire retardant treatments, it is possible to reach class C (limited contribution to fire: FIGRA < 250 W s-1) or even class B (very limited contribution to fire: FIGRA < 120 W s-1), which gives more applications in construction compared to untreated timber.
Significant efforts by research professionals mean that it is now possible to predict a product's Euroclass from the cone calorimeter output (Messerschmidt et al. 1999; Hakkarainen and Kokkala 2001; Hakkarainen 2001a; Hakkarainen 2001b; and Hietaniemi et al. 2004). An example of a prediction tool is Conetools, developed by SP Technical Research Institute of Sweden. Such models are useful tools for product development and can result in a reduction in costs for SBI sample preparation and testing.
Radiant panel test
The radiant panel test is used in Europe to regulate flooring products EN ISO 9239–1 (2010) as part of the Euroclass system and in the United States for both floor coverings ASTM E648 (2010) and cellulosic insulation ASTM E970 (2010).
A gas fired radiant panel inclined at 30° provides a heat flux gradient to a horizontally oriented specimen (size 1050 mm × 230 mm) of ~11 kW m-2 at one end of the specimen to less than 1 kW m-2 at the other end. A pilot flame is applied to the hotter end of the sample to ignite the specimen. The spread of flame along the sample is observed, and is related to the critical heat flux to extinguishment. If after 30 minutes, the specimen is still burning, the position of the flame front at this time is taken as the critical heat flux. As such, a higher critical heat flux indicates improved fire performance as opposed to a lower critical heat flux.
The fire performance of wood products in the Radiant panel test is known to be improved, or at least maintained, by coating systems, e.g. UV cured acrylic, polyurethane, oil systems used by flooring industry, ordinary wood oil and soap mainly used for solid wood floorings (Ostman and Mikkola 2006). Unlike the SBI test, no trends in test performance and specimen density have been found for wood floorings. (Ostman and Mikkola 2006) attributed this to the different influences on flame spread of the gases released as a result of the lower heat flux used in the Radiant panel test. The effect of this on flame spread will differ between wood species depending on e.g. the wood permeability. They did, however, explain that patterns or groupings are observed when the data is examined per wood species.
Some investigations have been completed on correlating the results of the cone calorimeter with the Radiant panel test. No correlations were found to exist by (Tomann 1993) and (Hirschler 1992), and the results of experiments reported by (Ostman and Mikkola 1996) indicated only a slight correlation between the two methods. Hirschler, however, presented a classification scheme based on the ratio of the time to ignition (seconds) and PHRR (kW m-2). High values for this ratio are preferable.
These test methods and the more fundamental thermal analysis techniques all provide useful information about the burning behaviour of timber, and its fire retardant modifications. However, the decomposition and burning behaviour of timber is highly dependent on the thermal and environmental conditions – particularly the sample orientation, the heating rate, the access of oxygen and the sample geometry. For this reason, there is no single objective measure for satisfactorily screening new fire retardant formulations, or optimising fire retardant treatments in preparation for a large-scale regulatory test. Euroclass prediction models, however, mean that the collective output from cone calorimetry can be used to predict the behaviour of a material in the SBI test.
Fire retardants
Application of fire retardants
Fire retardants are typically either coated onto the surface of the wood, or impregnated into the wood structure using a vacuum-pressure technique, although other technologies, such as plasma treatments (Pabelina et al. 2012), are being investigated.
When impregnating, the structure of wood is viewed as being similar to that of a sponge, with cell cavities and cell walls. The aim of fire retardancy is to coat these walls with fire retardant to protect the structure from fire. First, the vacuum removes the air from the cavities to create space for the fire retardant solution, which is then forced deep into the wood under high pressure. The process can be repeated and the parameters adjusted to optimise the treatment dependent on the level of protection and the required depth profile of fire retardant through the wood.
To apply a protective surface coating to wood, it is typically painted, sprayed or dipped into a solution of fire retardant. Superficial treatments, such as paints, are often thought to be attractive for the ease with which they can be applied, and for the comparatively small amount of material required for fire protection. However, the associated re-application requirements and surface damage possibilities are considerable problems for the end-user.
There are numerous approaches by which fire retardants exert their influence on the combustion of wood. They all, however, aim to delay the time to ignition of wood, reduce the rate of heat release during combustion (Hakkarainen et al. 2005) and reduce the surface spread of flames. The modes of action (how they work) are described briefly.
Modes of action
(Browne 1958) provided an in-depth literature survey on these concepts and summarised them into four basic theories. These are chemical theories, coating theories, thermal theories, and gas theories; however, these strategies are by no means mutually exclusive because two or more of them may be, and probably are, operative in a given case.
Chemical mechanisms are exhibited by most commercial fire retardants for wood where the pyrolysis of wood is directed towards the production of increased char and water, and fewer volatiles. Coating theories suggest that the fire retardant coats the wood fibres to provide a 'blanket' of protection, and prevent the escape of flammable vapours and access of oxygen. Fire retardants displaying thermal action can operate in one of three ways: provide thermal insulation to the wood, absorb the surrounding heat by endothermal reactions, or increase the thermal conductivity of wood in order to dissipate the heat from the wood surface. Gas theories suggest that gases released by the fire retardant either dilute the flammable gases produced by wood to prevent the formation of a flammable mixture, or inhibit chemical reactions in the flame so that combustion is incomplete and less heat is available to sustain burning. Examples of substances used for each of the mechanisms described are outlined in Figure
5
.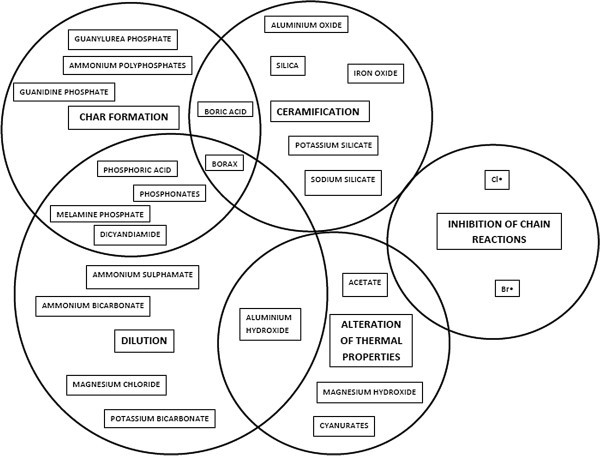 Potential approaches for fire retarding wood
Limited progress has been made in the flammability reduction of wood in recent years. Some of the fire retardant timber treatments are two millennia old, where alum was used by Romans. Since then, the synergism between phosphorus and nitrogen, and often boron too, has been widely studied in academia and exploited in various commercial products. Nowadays, many end-users and regulators recognise the hazards presented from the toxicity, smoke and corrosiveness of fire retardant compounds, due to the large volume of attention given to halogenated flame retardants. There is a current contentious toxicity problem with boron and as such, a need for wood products to move away from boron based fire retardants is recognised. From literature describing the fire retardancy of timber and various polymers, the following options show the greatest potential.
Concluding remarks
No single screening tool can be used to assess the degradation and flammability properties of the various mechanisms available. MCC will not show the effect of a surface coating since it is concerned with bulk burning. Similarly, cone calorimetry is unable to represent surface flame spread of a test specimen whilst the LIFT apparatus does have this ability. As a result, a combination of test apparatuses (or a test apparatus/prediction model combination) must be used in the development of fire retardant timber treatments, and the results evaluated together. For example, predictive models can be used in combination with the collective output from the cone calorimeter to predict the behaviour of a material in the SBI test, thus predicting a product's Euroclass.
A broad range of fire retardant treatment systems for wood have been studied throughout recent years and many others are currently under development. Combinations of phosphorus and nitrogen continue to prove themselves as very powerful solutions for wood-based applications, whilst silicon based compounds are continually under improvement. It is likely that phosphorus and nitrogen combinations will remain at the forefront of fire retarding timber and as such novel application techniques, e.g. Layer by Layer technology, show potential for industrial application and may further improve the performance of these long standing chemicals. Inorganic fillers and silicon are suggested as possible direct replacements to boron free systems, operating via a similar mechanism and combining economy, a reduction in flammability, and smoke inhibition with low toxicity of fume. Looking beyond phosphorus, nitrogen and silicon, however, there is significant scope for increased effectiveness from various options. Firstly, the use of expandable graphite can be evaluated for coatings, but its large size and mode of action suggest it would be unsuitable for penetrative treatments. In addition, combinations of intumescent coatings and thin metal layers show increased times to ignition for timber. Insoluble nano-sized chemicals may offer the potential of the greatest fire retardant effect for the lowest loading level. These materials have shown excellent effects in the laboratory for polymers, but improvement needs to be made in the industrialisation of the high dispersion levels required.
Whilst the addition of a fire retardant to wood may improve its flammability properties, it may come at the expense of intrinsic properties such as strength or increased smoke production. Fire retardants must, therefore, be formulated for best overall performance, including consideration of the hydrophilicity, glueability, paintability and corrosion effects of the chemical to be used in conjunction with wood. The fire retardancy of wood remains a very complex scientific problem for which close collaboration between different disciplines is required.
Declarations
Acknowledgements
This study was supported by a grant from the Knowledge Transfer Partnership Scheme, of the UK's Technology Strategy Board.
Authors' Affiliations
(1)
University of Central Lancashire, Preston, UK
Copyright
© Lowden and Hull; licensee Springer. 2013
This article is published under license to BioMed Central Ltd. This is an Open Access article distributed under the terms of the Creative Commons Attribution License (http://creativecommons.org/licenses/by/2.0), which permits unrestricted use, distribution, and reproduction in any medium, provided the original work is properly cited.